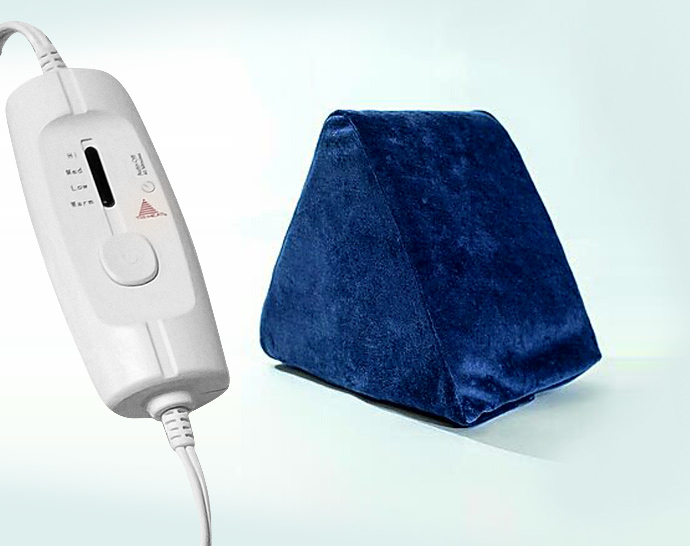 TRI-

HEAT

HEATING PAD IS SPECIFICALLY DESIGNED TO HELP PEOPLE TARGET MUSCLE, JOINT, AND ARTHRITIC PAIN.
Targeted pain relief.

Capable of Moist heat.

4 Heat settings.
2 Heated sides.

40 Min Auto off.

Includes Flat Cover.
Learn More
ABOUT TRI-
HEAT
Tri-Heat's unique triangular shape is perfect for treating hard to target areas such as the neck, shoulder, elbow, wrist, and knee among others. This unique design contours to your body's joints allowing you to be in a more natural and comfortable position which effectively stimulates healing. It's also Two Heating Pads in One! See video for more information.
NECK

SHOULDER

ELBOW

KNEE

WRIST

Two Heating Pads in One! See video for info.
Learn More
Tri-
heat
Check out our video for more information.
Testimonials
Our wonderful customers are the reason we're in business. Here are some of the great things they've said about us.
Jay B.

Great product, my grandfather has a bad Knee, I sent him one as a Christmas Present. He Loves it!

Stacey OI have elbow and arthritis pain and TRI-HEAT is so comfortable to use. I have noticed such a difference since I started using it. Thank you!

Linda BI love my new heating pad! I think the shape is so much better than your normal flat heating pad. I have a lot of neck pain and it's absolutely perfect. We also bought one for my mother in-law…and she thinks it's amazing!

Ann JAbsolutely the best heating pad I have ever used!

Marian KI have been using the TRI-HEAT pad every night. It is really helping with my tendonitis. A great product. Thank you!
Previous
Next